About Jesse
Jesse is a 27 pound Bichon and was born on May 10, 2002,
in Ontario, Canada, and adopted 9 weeks later by his new
momma and poppa, Steve and Dianne. His momma Dianne
chose him over his brother because when she picked him up,
he nibbled on her neck. If his new parents had the extra
money, they would have brought his brother home too.
Jesse was somewhat afraid at first about leaving his brother,
but it didn't take him long to love his new home.
Jesse likes
-quiet classical & relaxing music
-playing catch. launch ball, soccer, foot ball - "doggie in
the middle" ( momma and poppa throws the ball back and
forth to each other and he tries to catch it)
-following momma and poppa "everywhere"
-laying on the love seat and foot of the bed
-soaking up the heat in front of the fire place
and becoming a "hot dog"
-going for walks and runs
-kissing papa's face in the evening and momma's
face in the morning
-chasing squirrels and cats when allowed
-sitting on front porch waiting for momma to come
home from work
-twirling momma's peddle on her exercise bike
-grandma coming to visit
-opening birthday & Christmas presents
-chewing his stuffed toys
-really likes treats
- broccoli, green beans, and carrots
-his blanky and hiding under it
-opening micro wave stand door with his nose
-belly, neck, and ear rubs
-going to parks
-fire hydrants
-exploring in the back yard
-sitting in the sun on back deck
-laying under bushes on hot days and getting dirty
-singing Christmas songs along with his own dog
Christmas CD
- watching poppa make supper
in case he drops food on the floor
-the crouton poppa gives him while making supper
-teasing momma by kissing poppa when she asks him
for a kiss
-delivering poppa his articles that he writes after
momma edits them
- taking recycle things to poppa
Jesse doesn't like
- loud rock and blues music
- momma and poppa leaving home without him
- baths and hair cuts
-going out into the rain
-the noise of skate boards
-momma and poppa making a fuss over other dogs


How smart is Jesse?
-2 years in a row he knew the exact day of Christmas and
when to open his Christmas gifts
-he knew what gifts were his and did not get them confused
with other people's gifts
-knows the mail lady is coming down the street 3 to 5 minutes
before she gets to our house
-knows when momma and poppa want to be alone in their room
so he on his own gets up and lays on love seat until he's told to
come upstairs
-knows how to find particular places in our city like
Johns barber shop
-brings a paper in his mouth from momma when she
wants her morning coffee
-knows too many words to count which makes momma
and poppa have to spell, but even knows how to spell
"park" and "walk"
-knows when it is around 8 PM when he gets 2 evening treats
-pees in a margarine container for poppa so back yard
grass won't die
-knows how to find things when told "find...", like
momma's shoes - he goes and gets one shoe at a
time and returns them to momma with them in
his mouth
-knows how to whisper the word "please"
by one short little quiet bark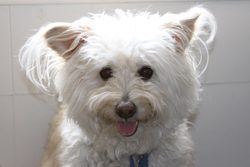 e